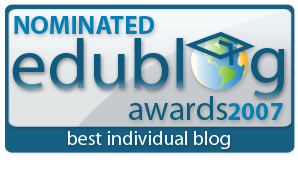 Well blow me!
I've been nominated for 'Best Individual Blog' at the Edublog Awards. I'm honoured to be in such exalted company.
As Ewan MacIntosh writes it's great to have two people from Scotland nominated for an international award. 
Many thanks to the person who nominated me – whoever you are?
Here's what Edublogs have to say about the awards;
We are delighted to announce this years finalists, and to officially open voting. Once you've had time to evaluate the finalists yourself, click through the category titles to vote.
One thing we should say at this point is that the response to these awards has been amazing… even though you had to fill out contact form after contact form to get your nominations in, we still received over 500 and choosing a shortlist from these has been immensely hard – if you haven't got listed this year, don't be disheartened, for 'best teacher' for example we had over 80 different blogs to choose from!