Dear Parents and Carers,
Playground Zones
These are changing in both Campuses on Monday 28th September.
The zones are working well and rotating them each 2 weeks allows children to explore and play in another area.
Dunbar Primary School Nursery Information
As many of you will be aware we have a great Nursery at Dunbar Primary School. You can check their website and twitter sites below to look at the great things that the children are learning.
Nursery Update
Ordinarily we would have the opportunity to invite you into nursery and talk to you about the way that we support your child's development. Unfortunately due to the current safety measures in place this isn't possible, however the nursery team have put together a presentation to provide you with this information.
Nursery Improvement Plan
Welcome Back: Thank you for supporting us and the changes we have had to implement during this time. It is a delight to have all the children back and be able to welcome our new families to Dunbar Nursery. I would also like to welcome to Miss Olivia Aylward who has joined us as an Early Years Practitioner, Mrs Michelle Higginbottom, who is already a familiar face, in her new role as Early Years Practitioner and a warm welcome back Mrs Lisa Huntly.
The Bee Hive Nature Garden: During the summer we were fortunate enough to receive funding from Community Wind Power to begin developing an outdoor learning area for the nursery. This will include a literacy/story telling garden, a wildlife garden and a growing garden. We have fenced the area, planted hedgerows received from the Woodland Trust and are building a shelter for the children to use with their friends. The next step is to develop the wildlife garden. We would like to create bug hotels and bird houses and plant lots of wildlife friendly plants. All the rooms are spending a lot of time developing our outdoor areas and a big part of this is loose parts. I have added a list of loose parts and materials that we are looking for.
School Pay: If you have registered for school pay could you please contact the school office for your access code. When paying snack money you need to click on Nursery Snack 2020 not Pre order school meals. If you are having an issue registering please contact the school office.
STOP DROP AND HOP: It is the policy at Dunbar Primary School that we have NO BIKING or SCOOTING at any time on the paths and in the playgrounds. This is to stop any accidents and children being hurt or injured. Please make sure your children going to school, nursery or any younger brothers and sisters, come off their bikes/scooters at the school gates and the bike/scooter is pushed carefully to the bike racks. This policy is also in place at the end of Nursery/school sessions. Your help and support with this is greatly appreciated.
Nursery Website: Now the children have settled into nursery we will be sharing their experiences and learning on the nursery website where each room has their own page. You can access the Nursery Website here or via the link on the school website. Could you please ensure that your photograph consent
Reminders:
· Please have a pair of wellies every session. Also suitable outdoor clothing. Each child has their own peg which they are welcome to leave wellies and waterproofs on.
· Sun cream to be kept in bags and forms returned if not already done so.
· The children are provided with a snack in the morning and in the afternoon and water is available for children to drink throughout the day. We are asking that parents DO NOT send their children in with additional snacks and water bottles.
Diary Dates
October Holiday – Nursery and School breaks on Friday 16th October and returns on Tuesday 26th October.
Library Books
We have recently checked our Library returns since lockdown and have over 700 books currently still out on loan. Please can you help your child check for books with the Dunbar Primary School stamp that may have got mixed up with your own books and return them to school. There are also class library books given out by teacher these will also have a stamp and would be gratefully received back.
P5 Trip to Lochend Woods with ELC Rangers
Starting nest week there will be a P5 trip to Lochend Woods, led by members of the ELC Ranger Service, accompanied by members of school staff per group.
Each group will be leaving school at 1pm each time and returning at 2.45pm.
The Class dates are below:
Wednesday 30th September – Miss Denholm, P5A 
Thursday 1st October – Ms McVitie P5F 
Tuesday 6th October – Mrs Sutherland P5E
Wednesday 7th October – Mrs Whitehead P5C 
Thursday 8th October – Mrs Christopherson P5B 
MacMillan Coffee Morning 2020
The staff at both Campuses enjoyed a socially distanced coffee and cake morning today to raise funds for Macmillan
Thank you to all the staff for your support!
Special Thank you SO much to:
for  supporting our socially distanced staff @macmillancoffee
& donating these delicious treats!!
Mrs Black organised for Lochend and Mrs Gillanders for JMC. We had a lovely time and raised money for a fantastic charity! #Community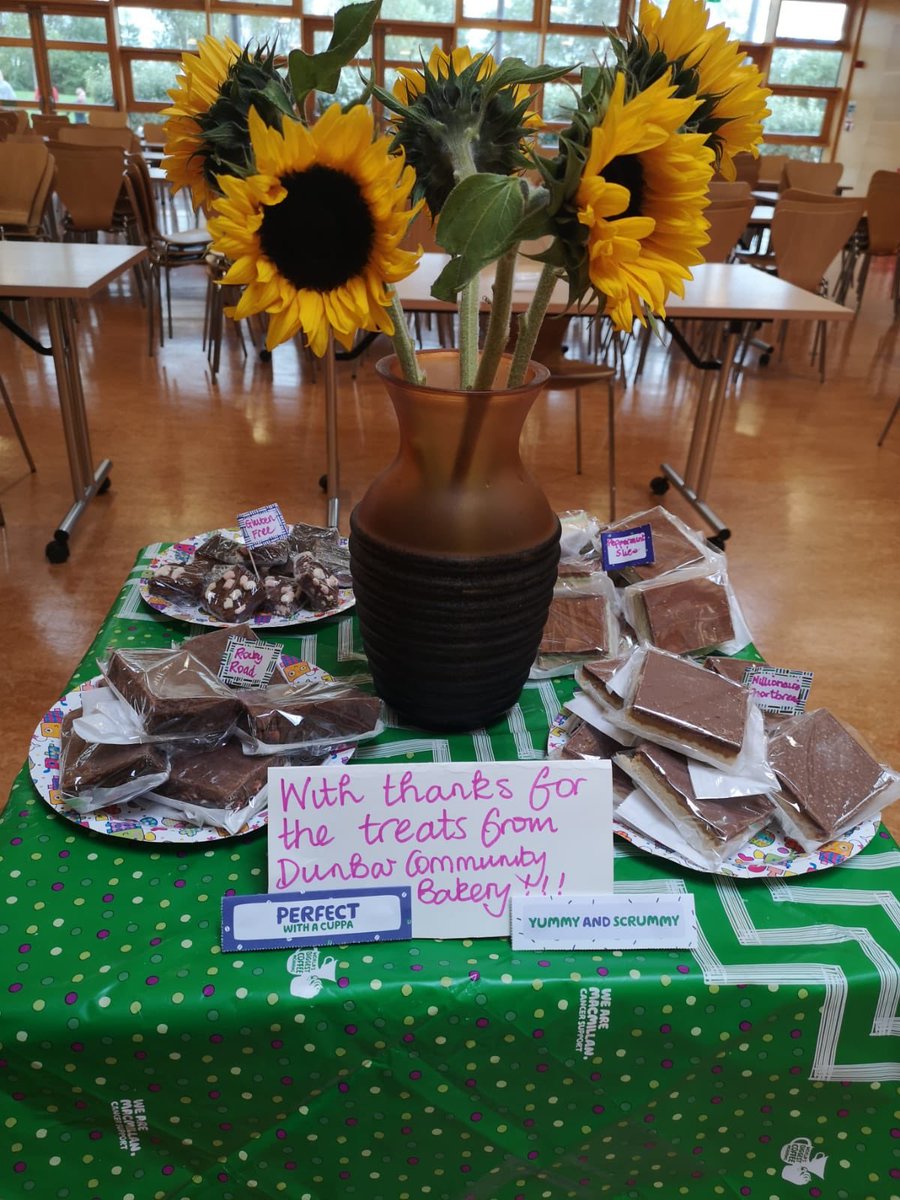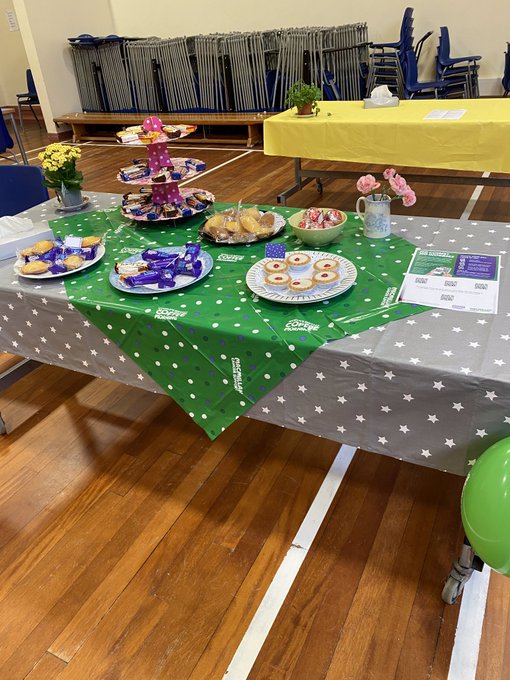 Dunbar Rotary Club Young Artist Competition
Primary 4 took part in the Rotary Club's Young Artist Competition at the start of term. The theme was

warmth

. Here are the winning artworks! 3rd Place- Sohpie O'Brien, 2nd Place- Fernie Sturrock, 1st Place- Isla Love .We still have the prize giving to look forward to next week. Well done all.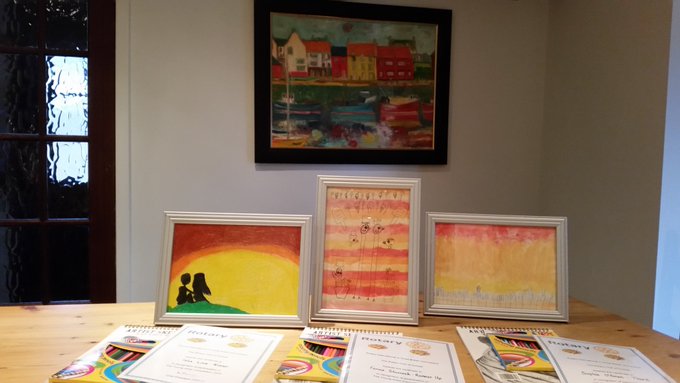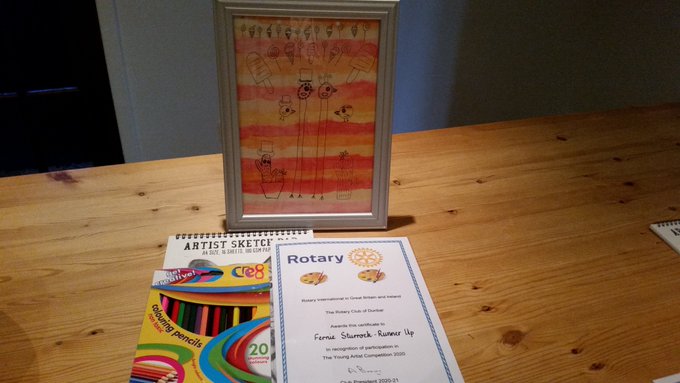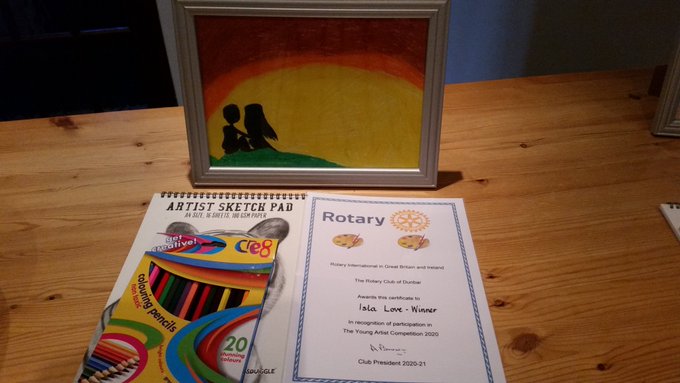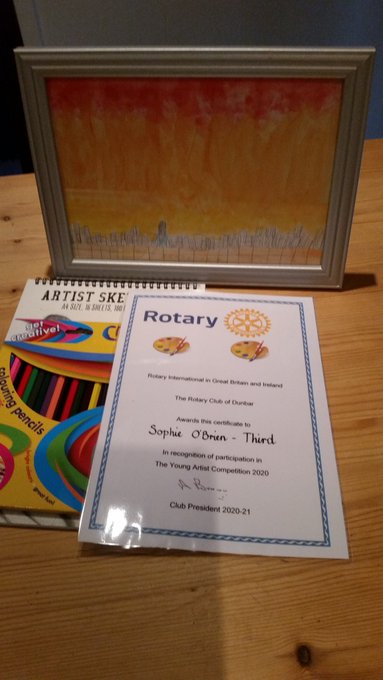 Digital Support
The Scottish Government recently announced funding of £30 million to support Local Authorities to provide digital devices and/or the internet to young people at school who may require support with digital access to learning from home.
We have used Scottish Government Guidance to identify young people at Dunbar Primary School who fit the criteria to be offered a device to support home-learning and we will be writing home to parents/carers, shortly of those young people whom we have identified.  Devices will be available to identified students from October. These devices are Chromebooks as they support the Google platform in use by East Lothian Council (ELC) schools. Students may be asked to hand their Chromebook in periodically for software updates and to ensure they are working effectively.
As the device is owned by East Lothian Council, the young person will be asked to return the Chromebook back to Dunbar Primary School if they leave the school. During the period of loan, students will be expected to look after their device and use it for educational purposes only, as per ICT User Guidelines.
Angus J MaRury
DHT