Medical Information Forms
Please see attached a Medical Information form which needs to be signed and returned to school. This form is the blue form sent out by the offices this week.
It is vital that we have up to date medical information on your child and we are informed of any change of circumstances.
The information you provide will be kept in the strictest confidence and only shared with staff members who require the information to support your child.
Please return this form, as soon as possible and no later than Thursday 1st April.
If you have any queries or concerns please contact Andrew McCulloch, School Business Support Officer in the first instance.
An Electronic Version of the form is available below.
BLANK Medical Information FORM (1)
Medical Information
We have now added a  Medical Information tab on the School Website with accessible forms that parents are required to complete if they wish school staff to administer medication at school. Paper copies are available from the school. This part of the website also includes information on Specific Medical Conditions and Care Plans.
Non-prescribed Medication
Any medication not requiring a medical or dental practitioner's prescription is defined as non-prescribed medication (e.g. paracetamol). School staff will not administer nonprescribed medication to pupils unless Form 1/Request for school to issue non-prescribed medication (Appendix 3) has been completed and signed by the parent/carer. The head teacher/designated person must also agree that it is necessary for the medication to be administered in school/on educational excursions.  
Routine Prescribed Medication
Any medication requiring a medical or dental practitioner's prescription is defined as prescribed medication. This includes:
medication where a specified dose is taken at a specified time and
medication where the dose and time taken change according to symptoms and/or test results.
If it is necessary for this medication to be administered during school hours, the parent/carer must complete and sign the appropriate form before any medication can be administered. The flow chart in Appendix 1 identifies which form is required in which circumstances and Appendices 4 – 7 are blank examples of each type of form:
Form 2/Request for school to issue short-term prescribed medication (Appendix 4)
Form 3/Request for school to issue long-term prescribed medication (Appendix 5)
Form 4/Request for school to issue long-term as required prescribed medication       (Appendix 6)
Very Important Information
The medication must be supplied in the dispensing container with  the original  pharmacy label attached stating the pupil's name, date of birth, name of medication, time/frequency and route of administration. The statement 'As Directed' is not acceptable. Medication that is not supplied to school in the dispensing container with the original dispensing label should NOT be accepted.  i.e. Pill boxes or other packages. ( I know of at least 4 where this is or has been the case.
We thank you for your support with this.
ASDA Donations-Thank You
We would like to say a massive thank you to ASDA in Dunbar for kindly donating 5 Dell computers to the school to enhance 5igital Inclusion.
ASDA have also been providing the school with snacks, breakfast goods and drinks to help provide food for children who require it at school. This has been very much appreciated by the children who have benefitted.
Red Nose day 2021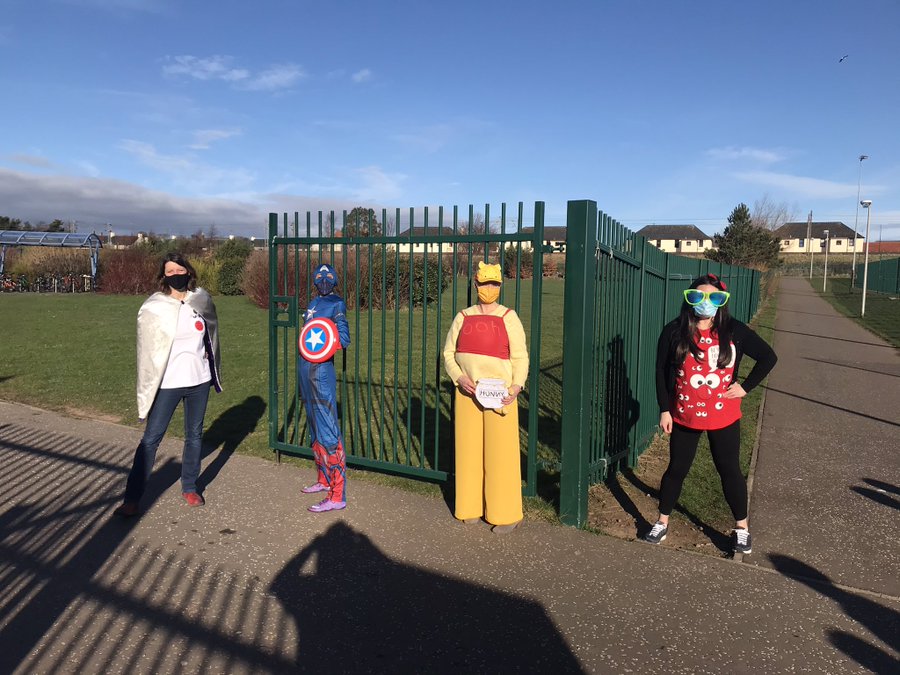 Thank you to Mrs Gray for organising Red Nose day activities for the classes. They also had a Red Nose day Assembly and watched Rangy, The Squirrels and Barney crack some awesome jokes. The Dunbar Gruffalo also made an appearance from Lochend Woods with a poem. The children were also shown Ethan's Story which is available below. Thank you also for the beautiful balloon  arch donated by a parent to the school this morning. Wonderful
Meet Ethan | Red Nose Day 2021 – YouTube
The Royal Hospital for Sick Children ('The Sick Kids')
The Royal Hospital for Sick Children ('The Sick Kids')
closes on 23 March. Children's A&E is moving.
If your child or young person needs to go to the Emergency Department, from 8am on Tuesday 23 March, you must go to the new Royal Hospital for Children and Young People at Little France.
Main Switchboard Telephone Number:
0131 536 1000
Royal-Hospital-for-Children-and-Young-People
Support for Parents
Children 1st
Parent line
Call: 08000 28 22 33
(Mon-Fri; 9am-9pm, Sat-Sun; 9am-noon)
Email: parentline@children1st.org.uk
Children 1st Parentline can support families in East Lothian struggling with money worries, family troubles, or feeling low. For more information, visit: Children 1st Parentline – Parenting Help, Advice & Support | Children 1st
Young Minds
Parent line
0808 802 5544
(Free Monday to Friday 9.30am – 4pm)
Email: Parents Email Service
Young Minds is available for parent who are worried about their child, and looking for some advice, to contact. For more information, visit:
Helpline – YoungMinds.
Young Minds
https://youngminds.org.uk/supporting-parents
Helpfinder
Young Minds Helpfinder is an interactive questionnaire. It provides you with their most relevant tips, advice, and where to get support for your child's mental health during the COVID-19 pandemic.
Dunbar Primary School Help
Dunbar Primary School  can help you too. Contact, 01368863777 John Muir or 01368860997 Lochend. We have Marie Prior our Enhanced Support Officer that can help as well as SLT and Support for Learning staff.
Support for Children
Childline 0800 1111 9am-3.30am
Childline
Children and young people can contact Childline with any worries or
concerns. There is also an online message board to speak with other young people in similar situations to yourself; Message boards | Childline.