Dear Parents and Carers,
May Holiday
The school is closed for the May Holiday on Monday 3rd May. School resumes on the 4th May for all pupils. Here is a summary of dates for your diary
May Day Holiday – Monday 3rd May
In-service Day – Monday 24th May
Last Day of Term – Friday 25th June
Staff Car Park  and Accessible Parking @ Lochend Campus
Unless you have a prior arrangement (usually children  with  ASN or Medical needs. The Staff car park and the zone beyond the paved Crossing point are NOT a safe drop off point for children. there is a brilliant Car park at Halhill for this.
We are aware that an increasing number of parents are using this area more and more frequently.  This is potentially endangering children in the school community. If you need to gain access  in the event of an emergency this should still be communicated to the school via a phone call.
As you may know, East Lothian Council schools are using the Relationships, Sexual Health and Parenthood  programme (RSHP) to support our teaching in the Health and Wellbeing aspects of Curriculum for Excellence.
We are in the process of implementing the programme across the school.  There was  previous post on the updates about this.
The full programme, including lesson plans, is available on their website https://rshp.scot/ and we encourage you to have a look and discuss with your children what they have been covering at school.
Early Level covers Nursery to P1, First Level is P2-P4 and 2nd Level is P5-P7.
The programme is aimed at delivering Beginning to the first stage within a level (for example P2 for First Level) and Progression 2 for the last stage within a level (for example Progression 2 for Second Level in P7).
Please contact the school if you have any question or any other reason related to this programme.
Bikeability
The P6 Bikeability dates  for P6 this session are:
Week 1:
Monday 31st May (9 – 12pm)
Tuesday 1st June (9 – 12pm)
Wednesday 2nd June (9 – 12pm)
Thursday 3rd June (9 – 12pm)
Week 2:
Monday 7th June (9 – 12pm)
Tuesday 8th June (9 – 12pm)
Wednesday 9th June (9 – 12pm)
Nursery , P3 and P7 Transition
This term the children in Nursery, Primary 3 and  Primary 7 will be involved in a variety of transition activities to prepare them for moving onto Primary 1, Primary 4 and S1.
For Nursery
Please keep your eyes peeled for Information from the school and Nursery Website.
Primary 3
We are finalising the programme for P3 and this will be issues very shortly via the usual channels
 Primary 7
you will get an update on this shortly.
Whilst most of these will be online, we do hope to arrange some face to face visits from the staff at Dunbar Grammar. There will also be a Transition Twitter page set up by DGS later this
term to keep everyone informed and up-to-date. More details to follow.
B2b Sounds Stories Film Project
Our current P5 are  to take part in an animated film project
with Dave Trouton from the Youth Music Initiative and in collaboration with professional film makers, Jonathan Charles and Simone Bloomfield. We are one of 4 schools who have been chosen to take part.
Each school will take on a 'department' within the film making process and will work together to produce an animated film which will be premiered and shared with the school community at the end of term. We are doing the sound part of the project.
We are working with Longniddry, Macmerry and Innerwick Primary schools on this exciting project.
The P5 classes enjoyed their listening walks this week.  Here are some pupils from P5b sharing stories about the outdoors.
Rotary Primary School Quiz 2021
We are delighted our P7's could take part in the annual Rotary Primary School Quiz today. The event ran a little differently this year with teams staying in their own school buildings and bubbles. Our 5 DPS teams represented their classes proudly. Scores are now being collated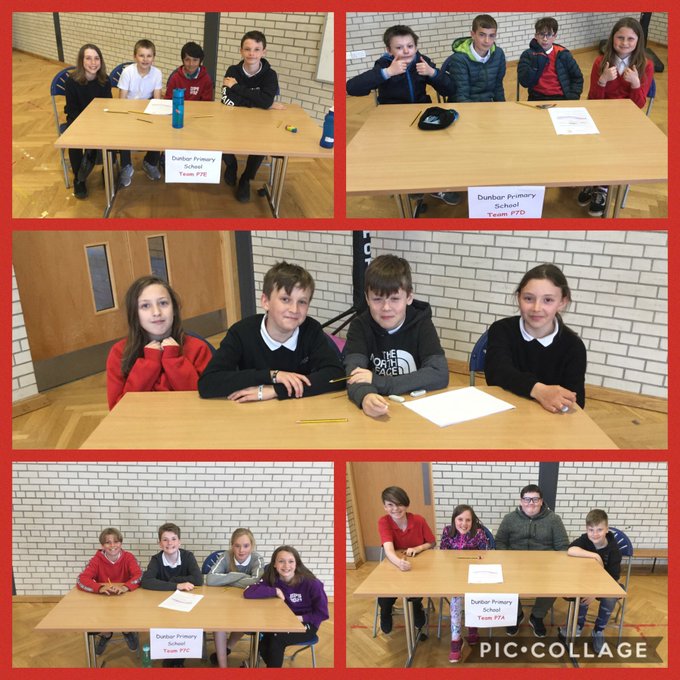 Active Schools Dunbar