Dear Parents
Due to unforeseen circumstances the weekly update was temporarily suspended in September. We are re-introducing it from today and we will hopefully bring items in the school and beyond to your attention. Remember every year stage has a Twitter Feed and you can find out about things specific to your child year stage there.
REMINDER Parent/Carer Evenings  – Mon 7th – Thurs 10th February 2022
Appointment times for John Muir, The Cove and Lochend pupils were opened on Google  last Friday, please can we ask you to book a slot so that we can share the progress your son/daughter has made since we talked with you in October. Lochend Parents Nights 7th and 8th February, John Muir 9th ands 10th.February. If you have not made an appointment please do so as soon as possible.
We are really keen to get you into school to see what has been going on. Twitter and our school website cannot replace the great stuff going on in the classrooms and I am hoping that very soon we will be able to invite you into school so you can actually look at the pupils' jotters, pictures, writing , models, etc. and really get to see what they have been doing at DPS.
PARENT COUNCIL MEETING – TUESDAY 8th FEBRUARY 7PM ONLINE
The next Parent Council meeting will be held online on Tuesday 8th February at 7pm.  The Agenda and Minutes of the previous meeting can be found below:-
Parent Council meetings are open to everyone.  Please e-mail
if you would like to attend.
Safer Internet Day
Next Tuesday is Safer Internet Day, and there are some great tips and conversation-starters to be found here. The Safer Internet Centre aims to make the internet not only a safer place for children and young people, but also a place where they can maximise the benefits they can get from online activity. We recommend it!
Dunbar Cluster Active Schools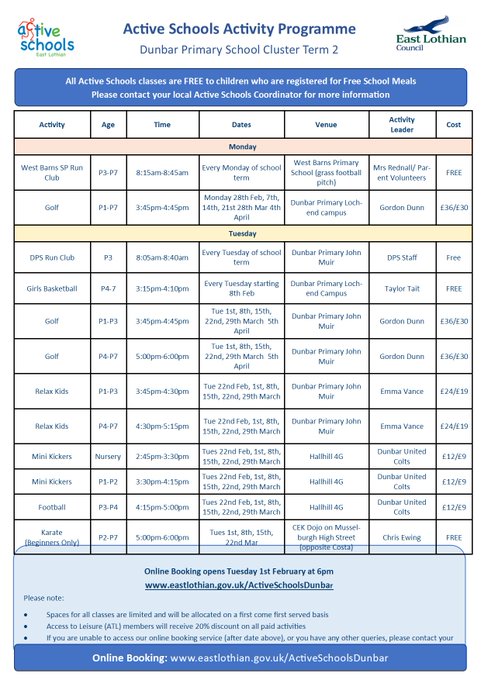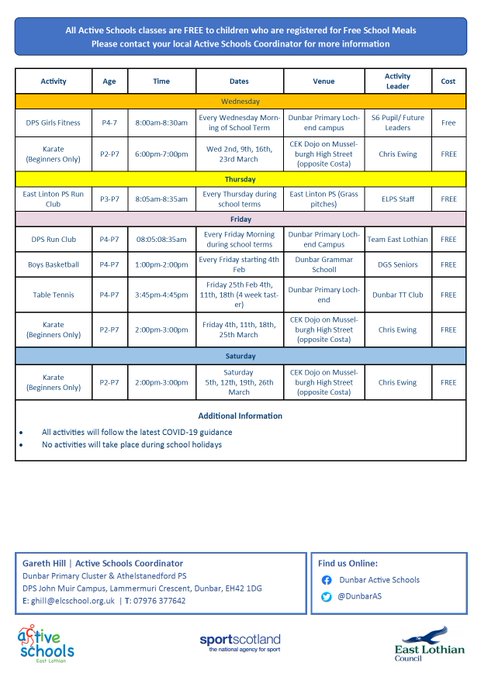 Financial Advice
An updated East Lothian Council Financial Support
programme is available to assist those who may
currently be experiencing financial hardship. Thisincludes information about assistance with meeting fuel costs. The Council can help if you're struggling to find out what
you're entitled to. There's lots of information available, but it can be difficult to know what type of help may be available to. East Lothian Council offer free, impartial and confidential
advice and support. They can let you know what benefits you may be entitled
to and in some cases, can help you to apply if you're unable to complete an application yourself. Links to the Council's welfare advice and financial support services, and a useful booklet, can be found below.
Welfare Advice and Financial Support | East Lothian Council
DPS Uniform Bank
We would encourage all parents to use the uniform back to reduce waste, not just families struggling financially. If you have any things in particular you are looking for you can email DunbarUnifromRecycling@gmail.com. There is a range of clothing and shoes available. Thanks must go to volunteer Anna Carpico for making this possible.Free Scho
Free School Meals (P6 and P7) and Clothing Grants
East Lothian Council offers a Free School Meal and an £120 Clothing Grant to carers who receive one of the following:
Income support
Income based Job Seekers Allowance
Income Related Employment and Support Allowance
Child Tax Credit but NOT Working Tax Credit with an annual income less than £16,105
Child Tax Credit AND Working Tax Credit with an annual income less than £7,500
Universal Credit – where your monthly take home pay does not exceed £625
This support is delivered discreetly so it is not obvious to peers if your child is receiving this. We would encourage families with children in receipt of free school meals in P1-P5 to still apply as there are a number of other benefits to the grant which otherwise can't be accessed.
You can access the form online by searching 'Free School Meals East Lothian Council' online. Please contact Depute Amanda-Jane Thomson should you wish support to apply.
School Meals Reminder for all Parents with pupils in P1-P5
From this January 2022, every child at a local council school can get free school lunches during term-time in Primary 1 to 5. This applies to all children in these years – your family's financial circumstances do not matter. You cabn order meals here: SchoolPay | East Lothian Council
EAST LOTHIAN ACTIVE SCHOOLS PHYSICAL ACTIVITY ACCESS FUNDS AND KIT STOP
The Kit Stop is an East Lothian based sports recycling programme designed to collect pre-loved sports kit and equipment and redistribute it back into the local community.  You can read more about it here.  Donations can be made at any of the points on the
Information about the physical activity access funds can be found here.
For individual applications, please complete the application form which can be found here
We are recruiting  Come and join Head to

@

myjobscotland

for more details
SCHOOL SESSION DATES 2022-23, 2023-24, 2024-25