Dear Parents and Carers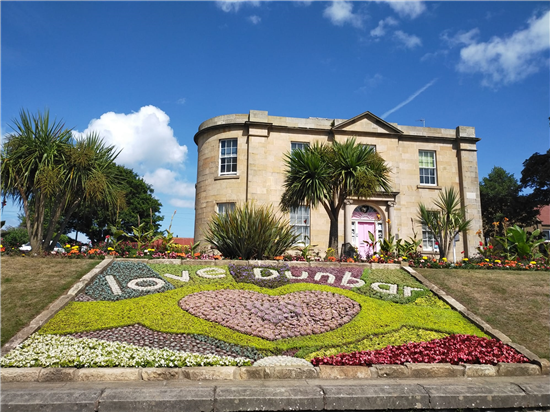 It has been a busy week here in Dunbar Primary School but the children are settling  back well.
As we approach the end of our second week I am so happy to say how well the children have returned to school and
nursery with their teachers and staff.
The new P1s are amazing us all with their eagerness to learn and how well they are doing already after just a few days in school. SUPERSTARS.
There is a lot in this weeks update so grab a coffee or tea and give yourselves 15 minutes.
Angus J MacRury DHT.
FLU VACCINATION LETTERS BEING ISSUED TODAY
The flu vaccine is now being offered to all primary and secondary school pupils in Scotland. 
The flu vaccine will reduce the risk of your child getting or spreading flu to friends and family who are at greater risk from flu and coronavirus, such as grandparents or people with health conditions.
From academic year 2021/22, the flu vaccine is available to all primary and secondary school pupils.
Nasal flu vaccine will be provided for most pupils.
Please note that for the very few pupils who require the flu vaccine injection for clinical or religious reasons, the Community Vaccination Team will provide injections in school, on the day of the school session.
Community Vaccination Team (CVT) clinics will be offered to children who can not receive for clinical reasons, are home schooled or who miss their session date.
Please fill in the consent form that your child brought home today and return the completed form to the school asap!
Please click on the link above to view our Meet the Teacher information.
ELC Documents out  to parents since return:
Lunches
Please ensure you order your child's school lunch on School Pay. It helps us greatly too if you indicate on School Pay if your child is having a packed lunch brought from home. If you wish your child to have a packed lunch on a Friday, you MUST order this before 10am on a Wednesday morning. East Lothian Schools will be reinstating the use of dining halls for school lunches on Monday 6th September.
However due to the current levels of Covid in the Dunbar Community and School Campuses we have been advised by the Head of Education to postpone the use of out dining hall and mixing of groupings at Dunbar Primary School until advised to do so by the Local Health Protection Team.
Once we are allowed it will enable the full hot menu to be offered, which is fully compliant with the new Scottish Government Nutrition Guidelines.
The new menu will be issued to children next week.
2 portions of vegetables to be available with every lunch. We will therefore be serving hot soup every
day in addition to salad or vegetables with a Main Meal. This is included in the price.
1 portion of fruit to be available with every lunch. This is included in the price also. Please note that the
home baking/pudding recipes have a portion of fruit included already. Water and Milk only to be served.
Please note the price of a Primary School Lunch is now £2.15
Libraries: Young People's Services
Bookbug Sessions in all libraries Bookbug sessions | Bookbug | East Lothian Council
Enhanced Bookbug sessions can be arranged for new parents, children with additional support needs or parent/carers who would find an open session difficult to attend.  We can do these as closed sessions at your location or in a library.  We can arrange a group zoom session for a few weeks to begin with to ease families in before arranging an in-person session.
Bookbug bags are gifted at 6 weeks and MMR by Health Visitor, in ante-preschool year by nursery/childcare setting, in P1 by school.  Read Write Count bags are gifted in P2 and P3. We have spares of these bags for any family who hasn't received them.  We also have Gaelic bags for families who are or would like to be dual language.  For children with additional support needs extra tactile books can be requested.
The Bookbug co-ordinator has resources such as stickers, books and other materials which can be used as a support bag for families or for those working with families. Contact me at cmesser@eastlothian.gov.uk
For those children born since January 2020 we offer a baby dedication service. A library book has a special label welcoming the child and this can be borrowed by the family. A keepsake postcard with details of the book is posted to the family.
We have story sacks and large story books which can be borrowed for use with families or groups and we're happy to work with groups of families at any point.
Our coping collection of books in Library HQ or in libraries are specifically catalogued with the topics they address and can be found through Search results for coping (capitadiscovery.co.uk). These are mainly stories and a small selection of non-fiction aimed at children and young people but to be read with them with the potential to support conversation. Topics included are: Autism, ADHD, Bereavement, Disability, New Baby, Family Break-Up and more. We're keen to expand the titles we have so please do feel free to contact us with suggestions for issues you feel would be helpful to address with families.  We can also recommend titles to use for specific circumstances so please do feel free to call or email to discuss.
We have a Raising Children collection which has been in libraries for some years but not well used so we have made the decision to keep just a few copies of each title and offer the rest out for support workers and others working directly with families to have.  This list will be circulated at the end of August via Morven Ross.
Boardmaker communication software is available for use in Dunbar, Haddington, Musselburgh, North Berwick, Prestonpans and Tranent libraries. 2 copies of the Talkability book are available to be borrowed through Library HQ for someone to work through with a family.
The Education Professional Service collection is maintained by Education and titles are available for loan through Library Headquarters. They are aimed at colleagues in education but can be borrowed by anyone.  You can find details of the titles available in our catalogue.
We've been working extensively on Outreach over Summer 2021 and are keen to do more as we'd like families to become comfortable with us first in spaces they use before welcoming them into libraries. If you have any activities you'd like us to bring a pop-up library to or any families you'd like us to help support please contact cmesser@eastlothian.gov.uk
Schools Library Service
We provide a project and fiction service to schools and childcare settings across East Lothian. A box of books and artefacts can be provided for a term for specific projects or a box of fiction titles appropriate to the class can be loaned. For specific groups of children we can take specialised requests. Contact Susan Boylan at sboylan@eastlothian.gov.uk for more information.
If you'd like to come along and see what we have available at Library HQ or discuss further how we can help you in supporting families please contact me at cmesser@eastlothian.gov.uk
Covid In Schools Update
The Scottish Government have communicated to schools that the majority of the safety measures in place in schools will continue for the first 6 weeks and will then be reviewed. Below is a reminder of the safety measures:
P1-P3 parents, P4-P7 parents should 'stop, drop, hug and go' at the school gates.
Please continue to wear face masks near the school grounds – at drop off and pick up and if in the reception area. The exception would be if you are exempt from wearing a face mask due to health reasons.
Staff will continue to carry out Lateral Flow Tests twice weekly, distance 1m from other staff members and continue to wear face masks (unless exempt).
Until 21st September  at Dunbar Primary School  lunches will be eaten in the classrooms. School lunches can be ordered through your child's schoolpay account.
Enhanced cleaning of the building throughout the school day will continue.
I am sure that you will have seen on the news and social media, that to try and cut down on the amount of times that whole classes are self-isolating, there will be a change to the process to managing outbreaks. Close contacts will still be asked to self-isolate, however following a negative PCR and no symptoms present, the child would be able to return to school. A close contact is now defined as:
Living in the same household
Having had a sleepover
Intimate contact
As has been the case up to now, please do not send your child to school if they are showing any Covid symptoms, the whole family should self-isolate and book a PCR test immediately. Please also notify the school office if a child is absent due to this and of the result once received back from the NHS.
If a positive case associated with Dunbar Primary School  is identified you will be issued with a letter to 'Warn and Inform' you. As usual, school will liaise with the Covid Education Lead at East Lothian Council and Public Health Scotland.
How and where to get a test
What to do if you have symptoms of COVID-19
The number of Positive Cases is in the Dunbar community are increasing as indeed the whole of the country Please be aware if the following information.
If you have symptoms of COVID-19 (the most common of which are a continuous cough, fever/high temperature, loss of/change in sense of smell or taste)  you should make an appointment through the NHS Inform website or telephone: 0300 303 2713 (open 7am-11pm. You will be advised where to go for a test. If you test positive, you must self isolate – support is available.
Getting tested if you have no symptoms of COVID-19
Almost 1 in 3 people who have COVID-19 don't have any of the usual symptoms but are potentially passing the virus on to others. While good progress is being made with the rollout of the vaccination programme, the virus still poses a risk. That's why local arrangements are in place for people without symptoms to get tested. Testing can help us to move to an even less restrictive way of life. It means you can find out if you are positive – even if you've received vaccination – and take immediate action to stop the spread of the virus, by self-isolating.
Options include visiting our testing centre in Musselburgh where you can get tested or collect a kit to take home, attending a mobile testing unit (see further details of both below), ordering home delivery of a testing kit online or collecting a testing kit from a local pharmacy.
Test centre for East Lothian residents with no symptoms
A COVID-19 testing centre aimed at identifying positive cases among people showing no symptoms is located at the former Stoneyhill Community Centre, Musselburgh.
Getting tested is quick and easy. No appointment is required and you can get tested more than once. The facility is open to everyone from East Lothian as long as you don't have symptoms – a fever, cough, or loss or change of smell. If you do have symptoms, you need to book a test elsewhere.
You can also visit the facility to collect a test kit to take home.
Opening hours are 11am-6pm (Tuesday to Saturday). Address: 5 Stoneyhill Farm Road, Musselburgh, East Lothian, EH21 6RN
Find out more about the test centre.
Watch a video about community testing.
Mobile testing units
It's also possible, even if you have no symptoms, to get tested at one of the mobile testing units currently being deployed around East Lothian. You don't have to live in the community being visited on a particular day to get tested there. The current schedule is below. Times of operation are 10am to 6pm unless otherwise stated:
Thursday 26 August; Friday 27 August
Port Seton Centre
Dunbar Leisure Pool
Loch Centre, Tranent
John Muir House, Haddington *closes at 5.30pm
Saturday 28 August; Sunday 29 August
Dunbar Leisure Pool
Loch Centre, Tranent *closes at 5pm
Monday 30 August
Dunbar Leisure Pool
The Mercat Bar and Grill, Whitecraig
Loch Centre, Tranent
John Muir House, Haddington * closes at 5.30pm
Tuesday 31 August; Wednesday 1 September
Prestonpans Community Centre
The Mercat Bar and Grill, Whitecraig
Loch Centre, Tranent
John Muir House, Haddington * closes at 5.30pm
Thursday 2 September; Friday 3 September
Port Seton Centre
Dunbar Leisure Pool
Loch Centre, Tranent
John Muir House, Haddington * closes at 5.30pm
Saturday 4 September; Sunday 5 September
Dunbar Leisure Pool
Loch Centre, Tranent * closes at 5pm
Sunday 5 September
Dunbar Leisure Pool
Loch Centre, Tranent
Walk-in appointments are available. While appointments are not needed they are preferable as this will save yourself time. Bookings can be made from 6pm on the day prior to when you get tested online at: get a free test online or by phone: 0300 303 2713. When asked why you are booking a test, select: 'my local council or health protection team has asked me to get a test, even though I do not have symptoms'.
Home delivery of rapid lateral flow test kits
Another option if you have no symptoms is get home test kits delivered to your home. Order free packs of rapid lateral flow tests online
Pick up a test kit from a local pharmacy
A number of pharmacies in East Lothian have stocks of rapid lateral flow test kits, which are suitable for home testing if you have no symptoms. You can check your nearest collection point online.
What happens if I do test positive for COVID-19?
You will need to self-isolate. Practical, confidential support is available within the testing facility, to support you and your household, if you test positive. We can give you advice on different financial help which is available. If you need general advice (not health advice), advice on self-isolation support grants, assistance with food or assistance with fuel poverty you can:
Other helpful telephone numbers:
East Lothian Council               01620 827827
24 hour emergency line          01875 612818
Emergency Social Work          0800 731 6969
Further information on wraparound support available for self-isolation can be found by calling the National Assistance Helpline on 0800 111 4000.
What happens if I test negative?
You should continue to follow all national guidance including following current restrictions and physical distancing. Although you may not have the virus at this time, it is still circulating and there is a risk of catching it.
What happens if I'm asked to self isolate because I'm a close contact of someone who has tested positive?
It's very important that you stay at home (self-isolate) if:
you have symptoms that may be caused by coronavirus (COVID-19)
you've had a positive test result
someone you live with has symptoms but has not yet been tested or received their test result
If you were identified as a close contact before 9 August 2021 and are still self-isolating on or after the 9th, you can end self-isolation as long as you:
are fully vaccinated – this means you've received 2 doses from the NHS and have had your second dose more than 14 days ago
have received a negative PCR test result
do not have, or develop, symptoms
A guide is available on the NHS Inform website.
The on-line consultation on the Draft East Lothian Poverty Plan 2021-2023 is now live
From Paolo Vestri, Service Manager – Improvement, Policy & Communications, Communities & Partnerships, East Lothian Council
Tackling the causes and effects of poverty in East Lothian is one of the, if not the, most important priorities for East Lothian Council as we begin to recover from the COVID pandemic.
"Overcoming poverty is not a gesture of charity. It is an act of justice. It is the protection of a fundamental human right, the right to dignity and a decent life."      Nelson Mandela
Following publication of the East Lothian Poverty Commission report in 2017 much has been done over the last few years to reduce poverty and inequalities, but much more still needs to be done.
The pandemic and lockdowns have increased poverty in East Lothian. (Read the leaflet, 'Poverty in East Lothian' for more information.) So it is vital that we put in place a new Plan to reduce poverty and improve the economic and life chances of all our citizens.
A Draft Poverty Plan for 2021 – 2023 has been prepared for the Council by a working group including representatives from key council services, NHS Lothian and community and voluntary groups.
The Draft Plan sets out objectives and actions that should be prioritised over the next two years.
It can be accessed using the following link.
A Good Start Programme
Providing Baby Massage, & other useful information about Weaning, Brain Development & Play details below.
School Session Dates
These have been reviewed and are are follows.
Copy of ELC School dates 2021-2022 calendar formatELC School dates 2021-2022 word format – REVISED at Aug 2021
Dear Parent/Carer
Recently, we published evidence that cells use the chloride from salt to fight viral infections. Also, nasal irrigation with salt water helped reduce the cold in adults. Hence, we are now testing if salt water nose drops helps children fight the cold.
If you have a child under 7 years of age, you may be able to join the fight. The Children's Hospital in Edinburgh are doing a study of salt water nose drops to see if it helps get rid of the cold faster. Your child does not need to have a cold right now to take part!
You can join right now by calling/texting 07973657457 for an appointment to sign up and to be taught what to do the next time your child has a cold. Your child does not need to attend.
Families completing the study will receive travel expenses and a £30 voucher to compensate for any inconvenience.
Further information is in the attached flyer or at www.elviskids.co.uk ; Twitter: @elviskids; Facebook: Elvis Kid
ELC School dates 2021-2022 word format – REVISED at Aug 2021