You are currently browsing the daily Archive for April 22nd, 2012.
May 17 was chosen because the date is the anniversary of the World Health Organization's May 1990 decision to remove homosexuality from its list of mental disorders. This victory of the lesbian-gay-bisexual and transgender (LGBT) cause was a historic step towards considering freedom of sexual orientation and gender identity as a fundamental basic human right.
The objective is to provoke action. Actions can take place in a number of different forms: a debate in the classroom, an exhibition in a cafe, a demonstration in the street, a radio program, a screening in a neighbourhood home, a round table organized by a political party, a short story competition sponsored by a newspaper, an awareness campaign led by an association, etc. These initiatives can be backed by LGBT (Lesbian, Gay, Bi, Trans) associations, by human rights organizations, but also by women and men of any background and interest. In fact, today many people who are not specifically interested in questions of homosexuality are worried about the problem of homophobia.
Find out more: http://www.dayagainsthomophobia.org
52%
of Americans find homosexual relationships "morally acceptable"
(Gallup Survey, May 2010)
5 x
Young Dutch LGBT people are up to five times as likely to attempt suicide as their heterosexual peers
Social and Cultural Research Agency (SCP) www.scp.nl/english/
91%
of Dutch people claim to accept homosexuality
http://www.scp.nl/english/Publicati…
48%
of French people are in favor of adoption by same-sex couples
(French Center for Research on Lifestyles – CREDOC, July 2010)
11
countries recognize same sex marriage rights
Wikipedia wikipedia
45%
of Americans favor marriage equality for same-sex couples
(Pew Research Center 2010) Pink News Same-Sex Marriage USA
76
Countries in 2010 prosecute people on ground of their sexual orientation
ILGA report on State sponsored Homophobia ILGA website
This Christian Aid Week (13 – 19 May 2012), let's give the tools to help people in poverty out of poverty.
http://www.caweek.org/resources/young-people.html
Young people
Assemblies, talks and activity sheets to inspire children and young people in churches and schools.
World Fair Trade Day is the first global campaign for The Fair Trade movement connecting producers and customers around the world and is endorsed by
WFTO
.
Events you can organize for WFTDay 2012
Let's colour the celebration with face painting event! This is a fun event. Paint your face with the WFTDay logo, make a photo of your painted face and send the photo together with your organization's name to the WFTDay 2011
Drop Box
. We will upload the photos on our website on the Community section of the WFTDay website!  
Fair Trade Product Fairs
In several parts of the world, public fairs are held where Fair Trade shops display their products. Everybody can participate in products fairs and enjoy the food tasting of delicious and diverse products from small producers around the world.  Help promote Fair Trade products by volunteering and promoting Fair Trade product fairs. 
Let's promote Fair Trade fashion! Organize your own fashion show and show to your community the latest Fair Trade fashion collection!
World Fair Trade Day Beating of Drums
Drum beating is becoming an event associated with World Fair Trade Day celebration. Let's keep this tradition. If possible, include beating of drums in your events. It is sure way to catch attention, it is fun and lively!  
Fair Trade Coffee/Tea Breaks
Several Fair Trade shops and organizations have successfully held Fair Trade Coffee Breaks, and each time a new record is set.  Fair Trade Coffee Breaks are very effective ways in promoting the consumption of Fair Trade beverages during coffee break time in offices and various establishments. Help promote Fair Trade coffee and other beverages consumption by participating in Fair Trade Coffee/Tea Breaks.  Visit and inquire your nearest Fair Trade shop about this event. 
Fair kids painting competition
Children have wonderful imagination! We can teach children the values of fairness and Fair Trade through painting competition. It is fun for children, as well as, adults! Organize a local Fair Kids Painting competition and teach your kids about Fair Trade!
Fair Trade Cooking Competitions
Cooking competitions using Fair Trade ingredients are a sure hit in many places, especially for people with discriminating taste.  Help promote making the kitchen a Fair Trade place in every home.  This is also a chance to discover delicious Fair Trade menus from all over the world by participating or witnessing this event.
Explore socially relevant art masterpieces with various social themes like the environment, climate change, poverty, women and many more.  See how artists express relevant issues of today through the arts media.  It's fascinating and a learning experience for everyone.
Celebrate Fair Trade Day with your family and friends in one of our Fair Trade Day concerts organized by our members and supporters. 
Fair Trade Film/Documentary showings 
Several events like this were held in 2009 and 2010.  You can celebrate World Fair Trade Day in your school by showing Fair Trade films/documentaries.  Contact your nearest Fair Trade shop or organization and inquire about film materials for showing.   You can also show films/documentaries with themes like poverty, climate change, environment and food and water crisis.
Fair Trade university lectures
Some student groups in local colleges and universities have organised university lectures and invited Fair Trade experts to talk on topics like trade justice, Fair Trade, climate change, poverty and other issues.  Students are very active promoters of Fair Trade.  You can also organize your own Fair Trade lectures at your school.   
More Fair Trade activities you can get involved: 
– Fair Trade community picnics
– World Fair Trade public hearings
– Local authorities support for WFTDay
– Fair Trade artist competition
You may have come across a reference in a diary or elsewhere to the fact that 9 May is "Europe Day" and perhaps asked about its significance.
Probably very few people in Europe know that on 9 May 1950 the first move was made towards the creation of what is now known as the European Union.
In Paris that day, against the background of the threat of a Third World War engulfing the whole of Europe, the French Foreign Minister Robert Schuman read to the international press a declaration calling France, Germany and other European countries to pool together their coal and steel production as "the first concrete foundation of a European federation".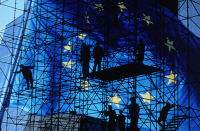 What he proposed was the creation of a supranational European Institution, charged with the management of the coal and steel industry, the very sector which was, at that time, the basis of all military power. The countries which he called upon had almost destroyed each other in a dreadful conflict which had left after it a sense of material and moral desolation.
Everything, therefore, began that day. That is why during the Milan Summit of EU leaders in 1985 it was decided to celebrate 9 May as "Europe Day".
Every country which democratically chooses to accede to the European Union endorses its fundamental values of peace and solidarity.
These values find expression through economic and social development embracing environmental and regional dimensions which are the guarantees of a decent standard of living for all citizens.
While Europe as such has existed for centuries, the elements which united it, in the absence of rules and institutions, have in the past been insufficient to prevent the most appalling tragedies.
The integration of Europe will not come about in one day or even in a few decades. Deficiencies are still numerous and there are evident imperfections. The project which was begun just after the Second World War is still very new. In the past, efforts at European union were based on domination of one group over another. These attempts could not last, because those who had been conquered had only one aspiration: to regain their freedom.
Today's ambition is completely different: to build a Europe which respects freedom and the identity of all of the people which compose it. Only by uniting its peoples can Europe control the mastery of its destiny and develop a positive role in the world.
The European Union is at the service of its citizens. While keeping their own specific values, customs and language, European citizens should feel at ease in the "European home".
More info: http://europa.eu/abc/symbols/9-may/euday_en.htm
The 8th of May is World Red Cross and Red Crescent Day. It is on this day because this is the date of birth of the founder of the Red Cross Henry Dunant. He got the first ever Nobel Peace Prize. Red Cross Day was celebrated for the first time in 1948. After several name changes, it became World Red Cross and Red Crescent Day in 1984. The day celebrates the role of members and volunteers of both organizations in saving lives and protecting poor people around the world. This special day encourages people to continue the work of Henry Dunant and help people in need. People can volunteer their time, donate money, organize fundraising events or give blood.
The Red Cross traditionally operates in largely Christian countries, while the Red Crescent serves Muslim populations. There are moves to add a non-religious "Red Diamond" partner. They work very closely to achieve their common aims. Their bonds have become stronger as they try to tackle the world's humanitarian crises. Together, they have the world's largest capacity to provide relief in any war zone, disaster area or natural catastrophe. They are among the most famous charities around the world and their two symbols are the most recognized logos anywhere. The two organizations operate in over 170 countries and have nearly 100 million members. An amazing 250 million people a year receive their help.
Read More at http://www.redcross.int/
This animation brings to life the story of the creation of the Red Cross, Red Crescent Movement and its history to date. The comic strip was created by the world renowned artist Jean Giraud, alias Moebius.
Download a copy of the comic.
PDF 2 MB
(via The Tree Council)
Walk in the Woods is the Tree Council's month-long festival to encourage everyone to enjoy trees and woods in spring. Across the UK, walks, talks and other events take place in town and countryside throughout May – a great month to go down to the woods or to a local park or just enjoy tree-lined streets. Spring flowers, birdsong and fresh green leaves make them particularly inviting.
Walk in the Woods month is a great time to organise an event and get new people interested in trees – especially in their local patch. A particular aim of Walk in the Woods is to attract people who rarely, if ever, visit woods – even those on their doorstep.
Interested in getting involved? All events can be found on our events map. To find out about some of the things that took place in your area last year, you can look at past events. If you're interested in organising your own event in 2012, read further to get some useful tips on how to organise exciting walks and other activities. Don't forget to register your event, so that other people can come and join you!
If you want to get as much local involvement as possible, you can download the free 2012 poster as many times as you like (please download the 2012 poster below).  Just fill in the details of when and where your event is taking place, or a contact number for information, and put it up on local notice boards.
Don't forget to record your bluebell sightings for the The National Trust's Bluebell Watch Simply tweet the location's postcode and tag #bluebellwatch.
Vesak is the holiest day in Buddhism. On this day are celebrated the birth, the Enlightenment, and the death of the Buddha. This day is usually in the middle or last two weeks of May.
Buddhists the world over rejoice and ponder this day, which is itself a symbol of rejoicing and pondering. Celebrations can be large affairs, filled with (vegetarian) food, animals, and festivals, or small remembrances, filled with meditation. Silent marches or meditations in the evening end the daylong celebration.
This holiday goes by other names as well, among them Buddha Purinama, Wesak, and Visakha Puja. The name may be different, but the reason for celebrating is the same.
St. Florian was a patron from Noricum, Rome in three hundred A.D., who was said to be one of the first commanding fire fighters of an actual battalion. As legend states, St.Florian saved an entire village engulfed in flames using just a single bucket of water. Legend also states, because of this act St.Florian is known as the protector of those who have come in danger of fire.
The duties St. Florian performed for his province are the same duties that fire fighters around the world perform everyday-with the same dedication and braveries. On May 4, St. Florian is globally recognized and honored and is also known as the day of St.Florian. Therefore, International Fire Fighters Day was chosen to be honored on May 4 in honor of the saint.
http://www.dontgivefireahome.com
Fire Safety
This section tells you everything you need to know about preventing fires, protecting your home and family, the services that can help you, and what to do if the worst ever happens.
It's easy to prevent fires – if you know what to look for and what to avoid.
Fire safety equipment must be installed, maintained and used properly. Get the essential facts here.
Learn what to do in an emergency – it could save your life.
Have your home checked over by professional Firefighters and get a ten-year smoke alarm fitted free of charge!
There's far more to Scotland's Fire and Rescue services than tackling blazes. Find out how they can help you stay fire safe here.
Fire Action
Would you know what to do if a fire breaks out? How would you and your family escape?
This section gives essential information on Fire Action, as well as tips on everyday routines that will help keep you safe.
Make a Fire Action Plan for your home today. Read our notes on escape planning and make your own printable plan with our interactive Fire Action Planner.
Knowing exactly what to do in the event of a fire could save your life. Find out here.
Simple, every day routines to help keep you and your loved ones safe from fire.
There is an old superstition that rowan trees (also known as mountain ash) offer protection against wishes.
It is considered unlucky to cut down a rowan tree except on St Helen's Day, cut with a household knife from a tree the cutter had never seen before. It must be taken home by a different route from the one taken to get there!
More info: http://www.rnli.org.uk/
World Asthma Day is an annual event organized by the Global Initiative for Asthma (GINA) to improve asthma awareness and care around the world. World Asthma Day 2012 will take place on Tuesday, May 1, 2012. The theme of World Asthma Day 2012 will be "You Can Control Your Asthma."
On their website you'll find a wide variety of information about World Asthma Day, including advice and resources for activity planning, and a listing of World Asthma Day events in your area and around the world.
Read more about World Asthma Day
Latest WAD News
World Asthma Day 2012 materials now available! Click here to access them.
In 1982 the Dance Committee of the International Theatre Institute (ITI) founded International Dance Day to be celebrated every year on the 29th April, anniversary of Jean-Georges Noverre (1727-1810), the creator of modern ballet.
The aim of International Dance Day is to celebrate Dance, to revel in the universality of this art form, to cross all political, cultural and ethnic barriers and bring people together with a common language – Dance.
Every year a message from an outstanding choreographer or dancer is circulated throughout the world. The personality is selected by the founding entity of the International Dance Day – the International Dance Committee of the ITI, which collaborates with World Dance Alliance, a Cooperating Member of the ITI.
Together with the World Dance Alliance, ITI and its Dance Committee celebrate International Dance Day at UNESCO in Paris.
 Message of the 30th anniversary of International Dance Day
Celebrate the never-ending choreography of life
Through time, through the ages, what endures is mostly art. Art seems to be everything humankind leaves to its heirs – whether through buildings or books or paintings or music. Or movement, or dance. In that sense, I think of dance as the most current, the most up-to-date history lesson, as it is in a constant relationship with its most recent past and can only happen in the present.
Dance also, somehow, does not acknowledge borders in the same way as many other arts. Even when certain styles try to limit themselves or work within a frame; the movement of life, its choreography and its need for flux: these take over very quickly, allowing certain styles to mingle with other. Everything engages with everything, naturally, and dance settles only in the space it belongs to — that of the ever-changing present.
I believe that dance may be one of the most honest forms of expression for us to cherish: because when people dance, whether in a ballet performance, a hip-hop battle, an underground contemporary show or just in a discotheque, cutting loose, there are seldom any lies deployed, any masks worn. People reflect each other constantly, but when they dance, perhaps what they reflect most is that moment of honesty.
By moving like other people, by moving with other people and by watching them move, we can best feel their emotions, think their thoughts and connect to their energy. It is, perhaps, then that we can get to know and understand them clearly.
I like to think of a dance performance as a celebration of co-existence, a way to give and make space and time for each other. We tend to forget this, but the underlying beauty in a performance is that it is primarily the convergence of a mass of people, seated one next to the other, all sharing the same moment. There is nothing private about it; a performance is an extremely social experience. All of us assembled for this ritual, which is our bond with the performance, our bond with the same present.
And so, in 2012, I wish everyone lots of dance. Not to forget all their problems of 2011, but on the contrary, to tackle them creatively, to dance around them, to find a way to engage with each other and the world, to engage with life as part of its never-ending choreography. Dance to find honesty and to transmit, to reflect and to celebrate it."
Sidi Larbi Cherkaoui
(via Depression Alliance)
Held every year in April, Depression Awareness Week™ is a fantastic opportunity to raise awareness, vital funds for Depression Alliance and try to end the stigma associated with depression. You can help us by raising awareness, holding a fundraiser, donating or joining Depression Alliance.
Depression Awareness Week 2012
This year's Depression Awareness Week is 22nd – 28th April 2012. We are currently planning the events for this year, further details will follow shortly. This year we are hoping people will organise lots of local fundraising events in their area to both raise money and awareness of depression, why don't you put your thinking cap on and organise your own fundraising event.
To raise money you can download a fundraising pack here. Alternatively you can support Depression Awareness Week by donating online at www.justgiving.com/depression/donate.
Remember you can send us photos (digital if possible) and details of your event so that we can feature it on the website or in the newsletter. Email us with details: fundraising@depressionalliance.org.
Share your story
If you would like to tell your story about your experiences and how you have overcome depression, please consider becoming a Depression Alliance Case Study Volunteer. We work with around fifty case study volunteers who share their experiences with local and national press, radio and television in order to raise awareness of depression and reduce the stigma attached to it. Email casestudies@depressionalliance.org.
Every child has the right to education, and these rights start from birth. But every year, over 200 million children under the age of five do not receive these rights, giving them less chance to achieve their potential and end the cycle of poverty.
The Global Campaign for Education is calling on world leaders to keep their promises and ensure early childhood care and education for every child – right from the start.
The Global Campaign for Education is calling on world leaders to keep their promises and ensure early childhood care and education for every child – right from the start. You can do this by submitting your Big Picture here or by signing your name to the campaign. If you are a teacher representing a school, please use the Register School or Organisation form.
More info: http://www.globalactionweek.org