Thirty second year History pupils, accompanied by Ms.Duthie, Ms.Marr and Ms.Morris plucked up the courage to visit the Royal College of Surgeons in Edinburgh !
They listened to the Education Officer describe an operation without anaesthetics in the 1830s and there were a few more pale faces when everyone handled an authentic amputation knife and saw !!!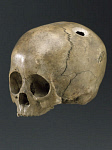 A quick trip around the museum let us see a trephined skull (with a hole in it to allow evil spirits- the cause of disease in Prehistoric times – to escape) , a book covered in the skin of Burke, the 'Bodysnatcher', and some medical equipment used today. Highlights from the museum collection click here.
Then it was off to the National Museum of Scotland where pupils had to complete a questionnaire based on  finding artefacts from Scotland's industrial past.
The pupils did very well …so did the teachers !
[rockyou 128026146]