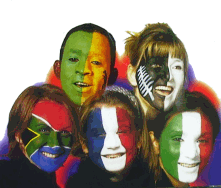 This year the whole school project is One Scotland. This socially inclusive theme ties into the Scottish Executive's One Scotland  campaign to raise awareness of and celebrate Scotland's cultural diversity and identity. It also coincides with this year's Homecoming Scotland initiative, marking the 250th anniversary of Robert Burns' birth and appealing to the worldwide Scottish diaspora.
The ELP pupils will be heavily involved in this initiative.
Some of the ideas we have for the ELP pupils to contribute include:
playing a rendition of "Caledonia" on their keyboards
entering a Burns' poetry competition with their own poem about a recent day out
learning some traditional Scottish food recipes, putting them into practise and selling their wares
finding out about the various people who have emigrated and integrated into Scottish society down a timeline illustrated nicely by the following link
http://www.scotlandagainstracism.com/onescotland/58.1.9.html
We will also be involved in working with other school departments and pupils to contribute further arts, crafts, music and displays for our One Scotland Open Day in the last week of May.
Keep an eye out for updates on our own ELP One Scotland page so that you can find out a bit more about the things your son or daughter is doing towards this event.